NSFA Webinar: When Disaster Strikes: LEF Roles in Responsiveness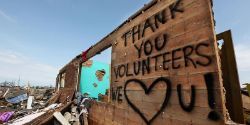 Webinar: When Disaster Strikes: LEF Roles in Responsiveness
*Free Webinar | October 22 | 12 - 1 PM CT | Register Today.
During the hurricane seasons of 2017 and 2018, Florida was hit hard by major storms-Irma in 2017 as Category 4 in the Keys and then again as Category 3 in Marco Island on the mainland, and Michael in 2018 as near Category 5 and the strongest on record to hit the Florida Panhandle. Communities in these storms' path were heavily impacted including schools, teachers and students disrupted with school damage and closings and families' home life upended due to personal losses and devastation. Schools were also impacted during the 2017-18 school year due to an influx of students from Puerto Rico and the Caribbean Islands after Hurricane Maria ravaged those islands and a school shooter killed 17 lives at Marjory Stoneman Douglas High School in Broward County. Join this presentation on how Florida's local education foundations and the statewide membership network responded to these tragedies, what they learned and how they are preparing for future disasters. 

Mary Chance serves as president for the Consortium of Florida Education Foundations (CFEF). Currently, the Consortium represents 62 county-wide education foundations that raise more than $63 million annually for targeted initiatives to increase student achievement. Mary has held this position for more than nine years after serving as the executive director of a member foundation (Alachua) for 10 years. Mary's previous experience includes 12 years in public relations and marketing in the agency and healthcare sectors.
Unable to attend but would like to learn more? Be sure to register on the GotoWebinar link after you have signed up for Eventbrite and the webinar recording link will be sent to you.
*Free to NSFA Members, $25 for Non-Members