NSFA Webinar: When Disaster Strikes: LEF Roles in Responsiveness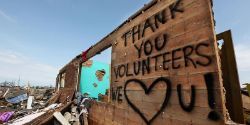 Webinar: When Disaster Strikes: LEF Roles in Responsiveness
*Free Webinar | April 7, 2020 | 12 - 1 PM CT | Register Today.
UPDATED: About the Webinar
The COVID-19 crisis is uncharted territory for public education as our school leaders, teachers and students navigate the largest national disruption ever to a school year.  While the challenges are unprecedented, Florida's local education foundations have lessons to share from several consecutive years of responding to student and classroom needs from hurricane devastation.   Learn six steps to consider in responsiveness philanthropy for school communities impacted by disaster with links to resources for your local planning.  Participants will also gain insights into how the Broward Education Foundation facilitated a Victims' Fund when the February 2018 Marjory Stoneman Douglas High School shooting claimed 17 lives. Join this presentation to learn how Florida's local education foundations and the statewide membership network responded to these tragedies, insights for developing your own foundation's responsiveness philanthropy policy to prepare for future events and takeaways for education foundations seeking to help in our current national crisis.
Please note the webinar time: 1 p.m. EDT, 12 p.m. CST, 11 a.m. MT, 10 a.m. PT.
About the Speakers
Mary Chance
President
Consortium of Florida Education Foundations
Mary Chance serves as president for the Consortium of Florida Education Foundations (CFEF), the membership organization that develops the capacity and resources of Florida's local education foundations in partnership with key stakeholders. Currently, the CFEF represents 67 county-wide education foundations that raise more than $64 million annually for targeted initiatives to increase student achievement.
Tracy Burger
Director of Member Development
Consortium of Florida Education Foundations
Tracy Burger has been with the Consortium of Florida Education Foundations (CFEF) since 2012 and currently serves as Director of Member Development for the statewide organization. The CFEF is the membership organization for the 67 county-wide local education foundations in the state of Florida and provides professional development, board development and support, and networking and funding opportunities for members.
Tracy completes regular needs assessments of member foundations and provides one-on-one support as indicated in the form of strategic planning, board development and other training resources for capacity and foundation sustainability. She is responsible for the oversight, management and continuous improvement of the CFEF's Foundations for Excellence Quality Standards, including vetting best practices and outside resources and initiating professional development for members.
*Free to NSFA Members, $35 for Non-Members