NAPSF 2017 August Newsletter
Hello Nebraska K-12 School Foundation Friends!
Save the Date!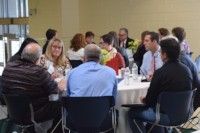 The Nebraska Association of Public School Foundations will host our annual statewide conference on Tuesday and Wednesday, November 14 - 15 at or near LaVista (details will be forthcoming). Registration will open in early September. NAPSF Members will receive a discount on their registration.  
This date coincides with the Nebraska Association of School Boards Statewide Conference in LaVista. If you are coming for that conference, why not check out the School Foundation Conference on your way? Or, even if you aren't coming for that conference, you are most welcome to join us as we learn from each other.
---
Request for Proposals
NAPSF State School Foundation Conference
Planning is underway to provide a great day laced with keynotes and breakout sessions that address the topics you are interested in. If you are interested in presenting a topic relevant to school foundations, please submit a proposal via this google form.
Possible topics include: School Foundation Board Member Panel; Crowdfunding; Best Practices in Scholarship Administration; Starting your Foundation: Defining your purpose for your community; Growing or Starting an Alumni Program; Fundraising for your School Foundation; Mining your database; Planned Giving; Legal Best Practices; Infrastructure Growth; Board Fundraising; Marketing; Board Development and Engagement; Connecting with your District.
Proposals are due by September 1.
---
Shout Outs!
Just recently our very own NAPSF President, Wendy Van, was appointed to the National School Foundation Association Industry Leadership Council and she has agreed to orchestrate the writing of the National Code of Ethics for School Foundations. We think that is pretty awesome! Congrats Wendy and thank you for representing Nebraska so well!
Also, came across this unusual gift received by the Fremont Public Schools Foundation. It is pretty neat to see the different types of support from donors who love public schools. Read the article here.
---
NAPSF Regional Meetings Report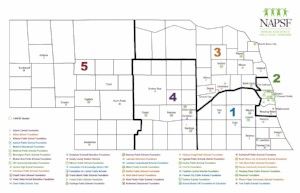 To locate your region please click on the following NAPSF Regional Map
Click here for a Calendar of events
September
Thursday, September 7, 2017

NAPSF Board Meeting
10:30 a.m. - 1:30 p.m.
Norfolk Public Schools Administration Building, 512 Philip Avenue, Norfolk, NE 68701

Wednesday, September 13, 2017

Region 4 (Central NE)
4:00 p.m. - 7:00 p.m.
Kearney Country Club
2800 19th Ave, Kearney, NE 68845
Hor d'oeuvres hosted

RSVP to Traci Skalberg, tskalberg@gips.org by Thursday, Sept. 7.
November
NAPSF State School Foundation Conference

SAVE THE DATE
Tuesday, November 14, 2017
Wednesday, November 15, 2017
More information coming soon
We welcome our Public School Foundation friends at any, or all of these meetings. You don't have to be geographically located in a region to take part in their round tables or professional development. Just RSVP to whichever meetings work for you. 
---
Haven't Become a NAPSF Member Yet?
The Nebraska Association of Public School Foundations is a state affiliate of the National School Foundation Association. This means that as a member of the Nebraska Association of Public School Foundations, you will get the discounted conference rate and all other full benefits of membership to the national organization as well as Nebraska. You pay one rate to Nebraska and get two memberships Statewide and National! What a deal!
All NAPSF Members are also members with full benefits of the National School Foundation Association, the oldest and largest K-12 foundation organization in the U.S.
Monthly (or as appropriate) e-communication which will include access to training and networking events, as well as other pertinent information.
Resources for collaboration and collective impact
Full access to webinar offerings
Annual national conference discounts
Regional workshop discounts
Access to consulting services from NSFA and NAPSF experts and other national leaders
Access to resources for best practices and ethics
Regional training opportunities for professional development
Access to a talent bank for school districts and school foundations. The talent bank will include seasoned professionals in the field that would offer advice, best practices, and share successes.
Sliding fee based on annual income of Education Foundation:
$100 annual fee ($50,000 or less income)
$200 annual fee ($50,001 - $100,000 income)
$300 annual fee ($100,001 - $250,000 income)
$400 annual fee ($250,001 - $999,999 income)
$500 annual fee ($1,000,000 income or more)
Click here for the Membership Form
Traci Skalberg
NAPSF Administrator
---
From NSFA
Secrets of Email Marketing
Free* Webinar
Tuesday August 15, 2017
1 pm CT, 2 pm ET and 11 am PT
There is more power and leverage in one email subscriber than 100 Facebook likes or 50 Twitter followers if email marketing is done right. Problem is, 9 out of 10 nonprofits don't do it right. In this educational session, we will share the secrets of email marketing geniuses, including: (1) The 5 types of nonprofit emails.(2) The anatomy of an email marketing campaign. (3) 6 email marketing mistakes to avoid. (4) 5 secrets of email marketing geniuses.
Jay Wilkinson is a lifelong entrepreneur and longtime business owner. He sits on the board of several nonprofits and is an avid supporter of programs that provide leadership and enrichment programs for America's youth. He speaks regularly on the topic of nonprofits and the web throughout the United States. He has appeared on CNN and other news outlets discussing how emerging technologies are shaping our future and is considered a leading authority on the impact of marketing on the web for nonprofits.
*Free to NSFA Members, $25 for Non-Member
Marketing Basics Which Build Community
Free* Webinar
Tuesday, September 12, 2017
12pm CST, 1pm EST and 10am PST
"Not enough people know who we are" is a frequent refrain among education foundations. Want to learn how to spread the word about your great work more effectively? This workshop will focus on the basics including the stages of engagement, defining your target audience and using various mediums that are most effective and efficient at cultivating a community, like social media and fundraising events. Growth for Good will also provide a handout of their Communications and Fundraising Calendar Template for marketing planning.
Claudia Zeldin, Partner at Growth for Good is an accomplished professional consultant with 25+ years of nonprofit marketing and management experience with a strong expertise in strategic planning, business development, branding, and interim executive leadership. She has consulted and created integrated marketing campaigns for more than 150 for-profit, nonprofit agencies, and educational organizations. 
*Free to NSFA Members, $25 for Non-Members
Upcoming NSFA Webinars
An Education Foundation Symphony- Best Practices for Starting a Foundation
Tuesday, September 26, 2017 from 1:00 PM to 2:00 PM (CDT)
Fundraising from the Business Sector
Thursday, October 5, 2017 from 12:00 PM to 1:00 PM (CDT)
Tuesday, October 24, 2017 from 12:00 PM to 1:00 PM (CDT)
Be Found: The Secrets of SEO (Search Engine Optimization)
Tuesday, November 7, 2017 from 12:00 PM to 1:00 PM (CDT)
Developing Your Comprehensive Fund Development Plan
Tuesday, November 28, 2017 from 1:00 PM to 2:00 PM (CST)
Tuesday, December 12, 2017 from 12:00 PM to 1:00 PM (CST)
Missed an NSFA Webinar? It is not too late, NSFA members can hear previously recored webinars in the Member Resource Library. Just log on using your organization's membership credentials.
---
Get a New Website for Less, Courtesy of NFSA and Firespring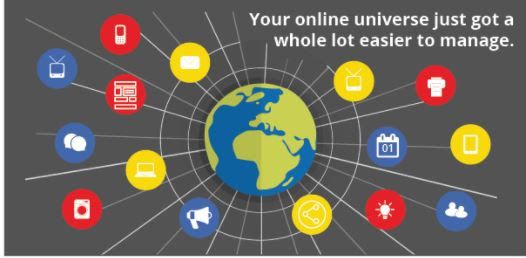 We've got a new member benefit that we are thrilled to announce! In fact, if you have not yet joined NSFA, this might be just the push you need to sign up. As an existing member, we hope this gives you one more reason to love us and refer your other Foundation friends.
NSFA has teamed up with Firespring to offer you a cost-saving website program that tackles the specific goals, needs and challenges that education foundations face. As an NSFA member, you'll receive significant savings on a new website.
This program will provide your foundation with:
A mobile responsive website built on an easy-to-use CMS
Integrated tools including email marketing, online donations and event registration
Access to unlimited support and training 
Your online universe just got a whole lot easier to manage.
Visit firespring.org/NSFA to learn more and get started—you could have a robust new website in a matter of weeks.
Warm regards,
Robin Callahan, CFRE Executive Director
NSFA 
---