Nebraska Public School Foundations in Action
Norfolk Public Schools Career Academy Ribbon Cutting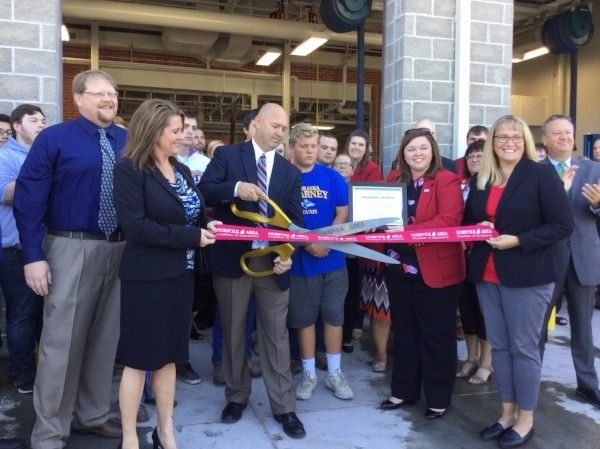 Norfolk​ ​High​ ​School​ ​Career​ ​Academy​ ​Project​ ​Fully​ ​Funded September​ ​20,​ ​2017
Submitted by Sarah Dittmer, Norfolk Public Schools Foundation
Dr. ​Jami ​Jo ​Thompson ​announced ​at ​the ​ribbon ​cutting ​ceremony ​for ​the ​Career ​Academies ​at ​Norfolk ​High School ​at ​10:30 ​a.m. ​on ​9/20 ​that ​the ​fundraising ​goal ​has ​been ​met.
Sarah ​Dittmer, ​Executive ​Director ​of ​the ​Norfolk ​Public ​Schools ​Foundation, ​shared ​in ​a ​press ​release ​that $1.370 ​million ​dollars ​was ​raised ​to ​fund ​this ​outstanding ​project ​that ​will ​benefit ​thousands ​of ​Norfolk ​students. She ​said ​"We ​had ​a ​great ​response ​to ​this ​project ​and ​had ​donors ​at ​all ​levels ​willing ​to ​support ​it. ​Donors included ​local ​business ​and ​industry, ​alumni, ​school ​employees, ​retired ​teachers, ​invested ​citizens ​and ​grant providers ​… ​but ​the ​common ​thread ​across ​the ​donors ​is ​that ​they ​all ​could ​see ​the ​value ​in ​a ​strong ​public school ​system ​and ​the ​ability ​to ​offer ​students ​career ​and ​college ​readiness ​programs ​in ​our ​community. ​The Norfolk ​Public ​Schools ​Foundation ​is ​proud ​to ​partner ​with ​donors ​and ​Norfolk ​Public ​Schools ​to ​make ​this learning ​opportunity ​a ​reality.
NHS ​Career ​Academies ​include ​state ​of ​the ​art ​equipment ​and ​teaching ​in ​the ​fields ​of ​Metals/Welding, Automotive, ​Agriculture ​(Plant/Animal), ​Drafting, ​Construction, ​Culinary ​Arts, ​Early ​Childhood ​Development, Health ​Sciences, ​Business ​Administration, ​Finance, ​Information ​Technology, ​and ​Marketing. ​Students ​will ​have the ​opportunity ​to ​experience ​work-based ​learning ​opportunities ​(field ​trips, ​internships), ​to ​earn ​industry specific ​certifications ​(OSHA, ​CNA, ​etc), ​and ​participate ​in ​career ​specific ​student ​organizations ​to ​develop leadership ​and ​teamwork ​skills ​(SkillsUSA, ​FFA, ​etc.)
Dr. ​Jami ​Jo ​Thompson, ​Superintendent ​of ​Norfolk ​Public ​Schools ​said ​"The ​Career ​Academies ​offer ​much ​more than ​only ​career ​oriented ​classes. ​The ​academies ​address ​every ​aspect ​of ​career ​and ​college ​readiness ​needed by ​our ​students, ​including ​career ​specific ​curriculum, ​hands-on ​experiences, ​and ​development ​of ​professional skills ​needed ​in ​the ​workforce. ​Our ​students ​will ​participate ​in ​strategically ​sequenced ​coursework ​that ​will ​take them ​from ​introductory ​classes ​to ​mastery ​level ​classes ​through ​their ​high ​school ​career. ​This ​sequence ​of classes ​will ​enable ​the ​student ​to ​graduate ​and ​have ​options ​to ​enter ​the ​workforce ​immediately ​or ​pursue post-secondary ​learning ​after ​high ​school." ​She ​also ​said, ​"We ​are ​so ​truly ​grateful ​for ​the ​support ​of ​everyone that ​has ​given ​financial ​support ​and ​expertise ​to ​the ​development ​of ​the ​Career ​Academies. ​The ​outpouring ​of community ​support ​has ​been ​very ​inspiring ​and ​greatly ​appreciated."
The ​Career ​Academy ​fundraising ​project ​included ​a ​small ​addition ​to ​the ​west ​side ​of ​Norfolk ​High ​School ​to expand ​the ​Metals ​and ​Automotive ​area, ​updated ​equipment ​where ​needed ​throughout ​the ​academies, ​plus ​an endowment ​that ​will ​provide ​funding ​into ​the ​future ​to ​maintain ​the ​integrity ​of ​the ​program ​for ​future generations ​of ​Norfolk ​Panthers. ​The ​endowment ​will ​enable ​the ​program ​to ​grow, ​adapt, ​update, ​and ​replace equipment ​as ​needed.
The ​ribbon ​cutting ​ceremony ​for ​the ​new ​addition ​took ​place ​on ​the ​west ​side ​of ​the ​High ​School ​and ​included the ​Norfolk ​Area ​Chamber ​of ​Commerce, ​teachers, ​students, ​local ​business/industry ​and ​many ​community members.
---
Do you have a success story you would like to share? A foundation program or process you are proud of? Our members would like to hear all about it!  Submit your stories here.