Nebraska Public School Foundations in Action
Grand Island Public Schools Foundation Plans Hall of Honor Banquet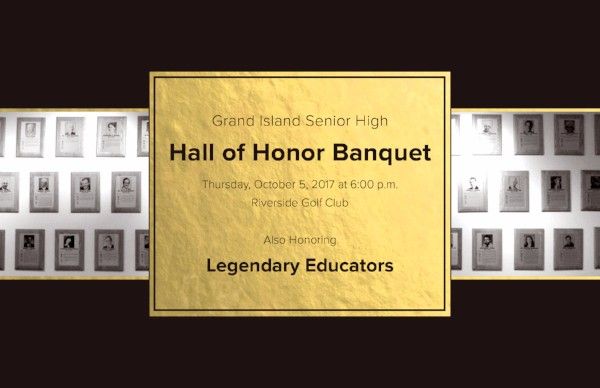 Grand Island Public Schools Foundation plans Hall of Honor Banquet
Submitted by Traci Skalberg, Grand Island Public Schools Foundation
The Grand Island Public Schools Foundation will honor four alumni and two former educators at the 2017 Grand Island Senior High Hall of Honor Banquet. The banquet will occur Thursday, October 5, at Riverside Golf Club.
The evening's festivities will begin at 6 p.m. Oct. 5 and include a reception, dinner, and program.  Tickets are $40 per person if purchased by September 30, and $45 per person thereafter.  Tickets can be purchased at the Grand Island Public Schools' Kneale Administration Building, 123 S. Webb Road.
The 2017 Hall of Honor Inductees include the honorable Jan Gradwohl, class of 1947; Jeffrey Greenberger, class of 1967; the honorable Philip (Mac) Martin, class of 1970; and Dr. Amy Cannella, class of 1989.
Additionally, the GIPS Foundation will be presenting the Legendary Educator award. The Legendary Educator Award Program was inaugurated in 2009 to recognize the outstanding educators who have made a difference to the thousands of students who have attended the Grand Island Public Schools. To qualify for the Legendary Educator Award, a person must be a former employee of the Grand Island Public Schools.
Former educators Mrs. Vikki Deuel and the late Mr. Charlie Sheffield will be named Legendary Educators.
The following businesses have acted as corporate sponsors for this occasion:  Allen Capital Group; Almquist Maltzahn Galloway & Luth CPAs; Anesthesia Group of Grand Island; DA Davidson & Co.; GI Family Radio; The Grand Island Independent; and Shonsey & Associates. 
The Hall of Honor banquet, induction, and celebration takes place every two years. The Hall of Honor, started in 1983, recognizes Grand Island Senior High School alumni who have made a significant and lasting contribution to the betterment of society. Nominees must have graduated more than 20 years ago from the high school.
Complete biographies and photos of the inductees are available at the following link: http://www.gips.org/foundation/programs/hall-of-honor.html
For more information, contact: Traci Skalberg, Executive Director, Grand Island Public Schools Foundation, (308) 385-5900, tskalberg@gips.org
---
Do you have a success story you would like to share? A foundation program or process you are proud of? Our members would like to hear all about it!  Submit your stories here.