Nebraska Public School Foundations in Action
CPS Foundation Raises $2 Million for District in 2016-17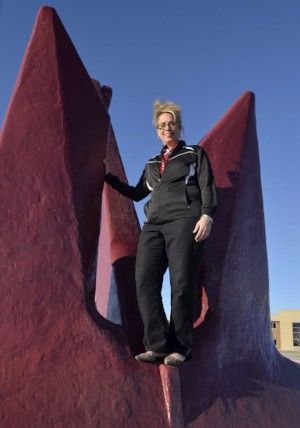 CPS Foundation Raises $2 Million for District in 2016-17
Submitted by Kim Kwapnioski, Columbus Public Schools Foundation
COLUMBUS — A year-end review of the Columbus Public Schools Foundation's fundraising efforts throughout 2016-17 revealed the new STEM Academy got out of the starting blocks in a hurry.
The review showed the foundation raised $2 million for the district's schools overall, with about $1.4 million coming primarily from partnerships forged with the business community supporting the expanded science, technology, engineering and math programs.
"It was an exciting year," said Kim Kwapnioski, executive director of the foundation, while summing up fundraising for the year during this week's CPS school board meeting.
The STEM investments were about $100,000 over the budget, mostly for the automotive portion of the expanded academy and certification requirements worked out with Central Community College-Columbus.
The academy, which includes STEM on the Go!, made up mobile work stations aimed at integrating STEM programs into earlier grade levels, opened in March at the new Columbus High along 33rd Avenue and Lost Creek Parkway.
STEM programs, which include advanced manufacturing designs technology, automotive and auto body technology, construction technology and welding technology, give students skills and hands-on experience.
Kwapnioski told the board district staff members were enthusiastic backers of the foundation's fundraising during 2016-17, with 81 percent of the employees contributing to the effort.
More than $6,000 was raised for the inclusive playground at Lost Creek Elementary during the Columbus Big Give in May, according to Kwapnioski.
"We've been able to engage more parents, students and staff members," Kwapnioski said. "We want to continue to grow."
The foundation also led the project that placed an 18-feet-tall anchor just south of the new high school.
The 30,000-pound anchor, rescued from a California shipwreck yard, is the centerpiece of a display that will include a ring of benches and brick wall. Surrounding trees, bushes and flowers will provide landscaping enhancements as time goes on.
The anchor was a focal point for a lot of alumni reunions this year, with plenty of photos taken by former students, Kwapnioski said.
There were five anchor chain links sold to donors, 14 benches and 279 bricks.
"People just loved the anchor," Kwapnioski told the board.
The STEM Academy and high school are gaining attention from around the state.
Kwapnioski said communities and schools are contacting CPS to tour the facilities. A regional economic development group and Fremont development group are also showing interest.
--Article appeared in the Columbus Telegram on Nov. 15, 2017-- 
http://columbustelegram.com/news/local/education/cps-foundation-raises-m-for-district-in/article_cdb52781-643a-57eb-a5e1-3db29d491d42.html
---
Do you have a success story you would like to share? A foundation program or process you are proud of? Our members would like to hear all about it!  Submit your stories here.