NSFA Webinar: Exploring Crowdfunding - Solution Series Webinar with FOUNDATIONGive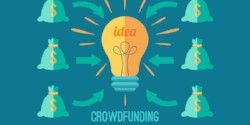 Exploring Crowdfunding - Solution Series Webinar with FOUNDATIONGive
*Free Webinar | February 13 | Noon - 1 PM CT | Register Today
Are you considering crowdfunding but want to learn more about it?
FoundationGIVE's mission is to help school leaders and teachers obtain the resources they and their students need, and they're raising the bar in three key areas:
• Strategic Crowdfunding – foundations, coaches, club leaders and teachers can easily create campaigns for specific needs, all with the approval and strategic support of the District and the Foundation.
• Partner Marketplace – a central hub for businesses-sponsored in-kind donations, volunteer hours and special offers.
• Turnkey Payment Processing – a secure and compliant platform that can be used for all types of donations.
Join FoundationGIVE as they show you how their platform can help your foundation and district critical resources for your students.
Casey Winkels is Co-Founder and President for FoundationGIVE, an online platform for classroom-based fundraising and a marketplace for business-school partnerships. FoundationGIVE was launched out of Nelnet Inc.'s Innovation Hub. Casey combines 8 years of education and assessments experience at Pearson Education and 8 years of business process automation at DataBank to provide executive leadership, product strategy, business development and entrepreneurial drive for the business. Casey attended the University of Minnesota where he studied graphic design, business and project management.
Douglas Solomon has extensive experience in bringing operations solutions to Education and Non-Profit communities. After building a network of parenting media properties across New England, Douglas launched Solomon Media LLC, a technology-based company providing online giving and payment processing solutions. In 2006, his firm was acquired by Nelnet Inc., where Douglas served as a senior executive, cultivating relationships and strategic alliances with education leaders across the country. Douglas, a graduate of Stonehill College (Easton MA), now leads a business development consultancy, representing FoundationGIVE and a select group of nationally-recognized EdTech brands.
*Free to NSFA Members, $25 for Non-Members
Missed an NSFA Webinar? It is not too late. NSFA members can hear previously recorded webinars in the Member Resource Library. Just log on using your organization's credentials.