NSFA Webinar: #GivingTuesday 9 Week Plan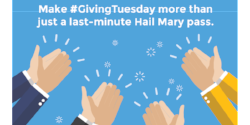 #GivingTuesday 9 Week Plan
*Free Webinar | September 13th | 12 - 1 PM CT | Register Today
#GivingTuesday Before, During and After: Your 9-Week Success Plan!
With only weeks left before the biggest giving day of the year, we're all systems go for #GivingTuesday. If your current #GivingTuesday plan is to email a link to your "Donate Now" page and hope for the best, you still have time to implement a powerful strategy. Dana Ostomel, founder of Deposit a Gift and one of the nation's leading authorities on crowdfunding, will take you step-by-step through creating your 9-week communications plan and implementing your best giving day ever. A successful #GivingTuesday lasts well beyond a one-day event, as long as your plan includes a strategy that starts on #GratefulWednesday.

Whether you began laying a foundation in May or have just started to develop your plan, you'll leave this session with a tactical plan for priming your community to give. Join Dana to discover how to: 

• Identify your communication channels and unleash their power. 
• Develop your week-by-week action plan. 
• Mobilize your community to spread the word and GIVE! 
• Successfully integrate #GT into your year-end appeal. 
• Leverage your momentum after the campaign.
Dana Ostomel is the Vice President of Nonprofit Industry Development at Firespring, a company that provides essential software and beautiful websites for nonprofits. Prior to her role at Firespring, Dana was the founder and CEO of Deposit a Gift, a crowdfunding platform popular with nonprofits that allows users to easily create an online fundraising campaign for any organizational or personal need. Firespring acquired Deposit a Gift in August 2016 with Dana residing as the company's lead crowdfunding expert. Before launching her own business, Dana spent over a decade as a marketing and branding adviser, developing integrated marketing solutions for nationally-known brands such as Snapple, CENTURY 21, MasterCard and DIRECTV. Dana holds a Bachelor's degree in Communications from UCLA. She is a leading authority and sought-after speaker on the topics of crowdfunding, online community stewardship and nonprofit marketing.
Unable to attend but would like to learn more? Be sure to register on the GotoWebinar link after you have signed up for Eventbrite and the webinar recording link will be sent to you.
*Free to NSFA Members, $25 for Non-Members