NSFA Webinar: Solution Series Webinar: Raise More Money with a Killer Website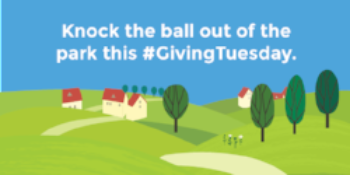 Solution Series Webinar: Raise More Money with a Killer Website
*Free Webinar | June 19th | 12 - 1 PM CT | Register Today
#GivingTuesday is the biggest giving day of the year and just months away. We're kicking off the countdown with a session to teach you how to maximize the next few months to lay the foundation for a successful day of giving. Join Dana Ostomel, founder of Deposit a Gift and Firespring's leading authority on crowdfunding, to learn the 10 most important components to creating an empathetic, engaged and responsive community that is ready to help you knock it out of the park. We promise you'll walk away confident about getting started planning your #GivingTuesday campaign.
What you'll learn:
How to get to know your donors and cultivate your network
Why a consistent communication plan matters
How to establish a brand your community connects to
Steps to generate loyalty that pays dividends
How to change your community's relationship dynamics
What to do tactically to set up the campaign early.
Dana Ostomel is the Vice President of Nonprofit Industry Development at Firespring, a company that provides essential software and beautiful websites for nonprofits. Prior to her role at Firespring, Dana was the founder and CEO of Deposit a Gift, a crowdfunding platform popular with nonprofits that allows users to easily create an online fundraising campaign for any organizational or personal need. Firespring acquired Deposit a Gift in August 2016 with Dana residing as the company's lead crowdfunding expert. Before launching her own business, Dana spent over a decade as a marketing and branding adviser, developing integrated marketing solutions for nationally-known brands such as Snapple, CENTURY 21, MasterCard and DIRECTV. Dana holds a Bachelor's degree in Communications from UCLA. She is a leading authority and sought-after speaker on the topics of crowdfunding, online community stewardship and nonprofit marketing.
Unable to attend but would like to learn more? Be sure to register on the GotoWebinar link after you have signed up for Eventbrite and the webinar recording link will be sent to you.
*Free to NSFA Members, $25 for Non-Members