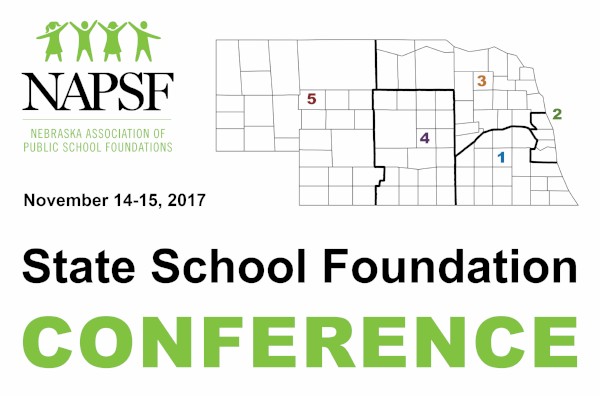 Tuesday, November 14, 2017
12:00 pm - 5:00 pm
Wednesday, November 15, 2017
8:00 am - 12:00 pm
LaVista Conference Center
12520 Westport Pkwy, La Vista, NE 68128
NAPSF Member Rate:  $100
Non-member Rate: $150
(why not become a NAPSF member today?)
After November 3, 2017
Late Registration NAPSF Member Rate:  $125
Late Registration Non-Member Rate:  $175
 
The Nebraska Association of Public School Foundations (NAPSF) will host our annual statewide conference on Tuesday and Wednesday, November 14 - 15 at the LaVista Conference Center.
This date coincides with the Nebraska Association of School Boards Statewide Conference in LaVista.
Agenda
Tuesday, November 14, 2017
11:30 - 12:00 p.m. Registration (Conference Center Lobby)
12:00 – 1:30 Lunch (Windsor VII/VIII)
NAPSF Welcome: Wendy Van, Fdn for Lincoln Public Schools, NAPSF Board Chair
Membership: Toba Cohen-Dunning, Omaha Public Schools Foundation
Keynote: Heath Mello - Public Education 2017: A Recovering Legislator's Perspective.
At the age of 33, Senator Heath Mello was elected to serve as Chairman of the Nebraska Legislature's Appropriations Committee. Hear an "Inside the Capitol" perspective on all things education, fiscal, and policy-related in this candid and insightful discussion.
1:30 - 2:30 Breakout Session (Windsor IX, X, & Sugarloaf)
Bringing Outside Resources to Your School; Ideas from Other Sectors  - During this panel we will provide overviews of the Anti-Defamation League and the Nebraska Arts Council, and also discuss the various opportunities that our organizations offer to schools. We will introduce our education-related programs and grants, and discuss ways that we can work with schools and school foundations throughout Nebraska.
Marketing & Special Events - C
Superintendent Panel  - Superintendents from three Nebraska schools will share thoughts about how to build strong connections between educational foundations and the school's purpose.  They will also touch on creating relationships between the school and the community that ultimately support an environment that promotes financial support for schools and foundations.  Audience interaction will drive the discussion.  
2:30 - 3:00 Break and Vendor time (Windsor VII/VIII)
3:00 - 4:00 Breakout Session (Windsor IX, X, & Sugarloaf)
Scholarship Best Practices - B
Building Legacy and Major Gift Funds at Your School Foundation - The future success of your foundation depends on building a strong and vibrant base of supporters who are as passionate about your mission as you are with their time and money. How do you find these individuals, and more importantly how do you keep them and grow their engagement in your organization? This session will explore how to identify, cultivate and steward long term relationships that lead to major and planned gifts.
Earned Income Opportunities - Omaha K-12 education foundations have a unique business model operating the parent-pay before/after school licensed childcare programs for their Districts that derive operating income for their organizations.  Come learn about how you might find this model useful for your foundation/district.
4:00 - 5:00 Roundtable Discussions (Windsor VII/VIII)
Crowdfunding
Support to get started
Alumni
Scholarships
Building an effective board
NSFA/NAPSF Resources
Large-Midsize  Foundations (>10K students)
Small Foundations (<10K students)
5:00 Cocktail Reception (Windsor VII/VIII)
Agenda
Wednesday, November 15, 2017
7:30 - 8:00 a.m. Registration (Conference Center Lobby)
8:00 - 9:00 Breakout Session (Windsor IX, X, & Sugarloaf)
Starting Your Foundation/Energizing a Dormant Foundation - Are you considering starting a school foundation for your school district?  Does your school have a foundation but it has went dormant and you don't know how to re-energize it?  This breakout session will include topics like by-laws, board governance, district partnerships, board development, etc with presenters from foundations of all sizes that have experienced portions of the "growth phase" of their foundations.  
Legal Best Practices  - This presentation will outline legal issues that every school foundation should explore, with a specific emphasis on board governance, charitable solicitation requirements, and fiscal sponsorship opportunities. This presentation will also explore the difference between a private foundation and public charity, and how to maintain your public charity status under the Internal Revenue Code. Finally, we will outline governance policies that every school foundation should adopt.
Building Attractive Hometowns  - In the 21st century, with new technologies and the Internet, more and more people can live and work almost anywhere they want. Today, our community economic development question in Nebraska should be: "why would I want to live and work and raise my family in this community?" Nebraska Community Foundation works with volunteer community leaders in over 250 Nebraska hometowns to answer this question. Dozens of Nebraska hometowns have many more young families living in their communities than they did 10 years ago. Yost will discuss how NCF partners with community leaders to create hometowns where talented young people choose to live, work and raise their families. And he will share several success stories of community building, new economic opportunity and people attraction.
9:00 - 9:15 Break and Vendor time (Windsor VII/VIII)
9:15 - 10:45 Brunch (Windsor VII/VIII)
NAPSF Member Recognition: Traci Skalberg, Grand Island Public Schools Foundation
NAPSF Business Meeting: Wendy Van, Foundation for Lincoln PS, NAPSF President
Keynote: Robin Callahan, NSFA Executive Director - A National Perspective on Education Foundation Trends and Why Your Work Matters.
What are the trends that we're observing nationally in the education foundation movement in relation to roles, structure and purpose, fundraising and more? Learn what questions education foundations are asking themselves to maximize their organization's impact. Most importantly, you'll be reminded of why your work matters and the four things you can do to lead your organization to greater heights.
11:00 - 12:00 Breakout Session(Windsor IX, X, Sugarloaf)
School Foundation Board Member Panel - Foundation Board Members, from Nebraska school foundations of all sizes, will share their insight regarding effective school foundations. Do you have questions you would like to ask an experienced board member?  Bring your questions to this breakout session, the panel will be eager to help!
Crowdfunding for Your School District - In this session, we will cover the journey that the Foundation for Lincoln Public Schools went on to build a culture of community engaging crowdfunding campaigns. We take a look back in the past, discuss the current state and present the roadmap for where it will be going.
Take Credit for Your Work.  Brand Your Success! - You are already doing great work. Own it! We will offer a case study and evolution of the marketing plan for the Grand Island Public Schools Foundation. This will include our branding experiences: the good, the bad, and the ugly! Name changes, local competition, and identity crisis...let our past experience be your tool to better branding for your foundation.
12:00 p.m. Adjourn
This form stopped accepting submissions on November 14, 2017 12:00 pm CST.