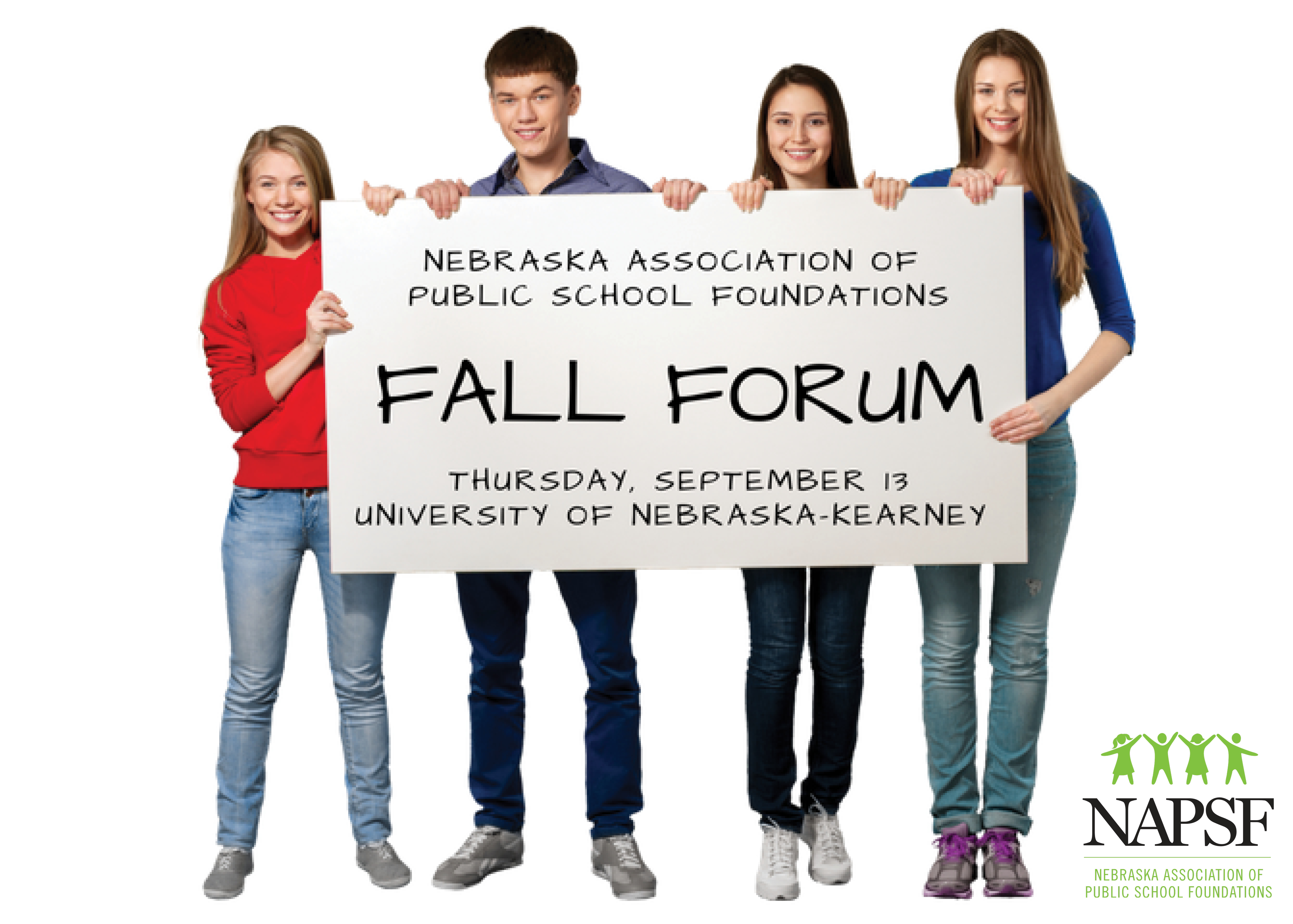 Thursday, September 13, 2018 
11:00 am - 4:30 pm
Nebraskan Student Union - Ponderosa Room
University of Nebraska at Kearney
1013 W 27th St, Kearney, NE 68849
 
Early Bird Registration:  until August 30, 2018
NAPSF Member Rate:  $40
Non-member Rate: $55
(why not become a NAPSF member today?)
 
On-time Registration:  August 31 - September 6, 2018
NAPSF Member Rate:  $50
Non-member Rate: $60
 
Late Registration:  after September 6, 2018 
NAPSF Member Rate:  $55
Non-Member Rate:  $65

Note: Registration fees include lunch and an afternoon snack. Special dietary needs can be met with advance notice.
---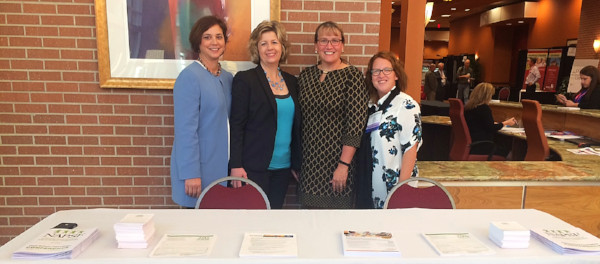 Join education philanthropy leaders from across the state
at the Nebraska Association of Public School Foundations (NAPSF)
2018 Fall Forum
Deepen relationships with your colleagues and network to create new connections. You'll enjoy the University of Nebraska-Kearney campus while hearing from fundraising experts in the fields of Staff Campaigns and Alumni Connections. Don't miss the early bird registration deadline of August 30th!
NAPSF Fall Forum Agenda
Thursday, September 13, 2018
11:00 am - 4:30 pm
Nebraskan Student Union - Ponderosa Room
University of Nebraska at Kearney
1013 W 27th St, Kearney, NE 68849
Forum topics include:
Partnering Organizations and Member Benefits
Employee Staff Campaigns
Connecting with your Alumni
Forum agenda:
Thursday, September 13
Ponderosa Room, UNK Student Union
1013 W 27th St, Kearney, NE 68849
11:00 Registration and lunch served
11:30 NAPSF Annual Meeting and Election of Officers
Welcome: Wendy Van, NAPSF President, LPS Foundation
Member Recognition: Wendy Van, NAPSF President, LPS Foundation
Election of Officers: Wendy Van, NAPSF President, LPS Foundation
Membership Update: Traci Skalberg, NAPSF Ex-Officio Member, GIPS Foundation
12:00 Speaker #1 and discussion
Partnering Organizations and Member Benefits
Community Services Fund (Melissa Filipi, Executive Director)
Horace Mann (Cindy Dornbush , Horace Mann, Matt Fisher, Superintendent Grand Island Northwest)
Video: National School Foundations Association (NSFA), Robin Callahan, Executive Director
1:00    Networking and Team Building exercise (Sarah Dittmer)
1:30    Speaker #2 and discussion
Traci Skalberg, Executive Director, Grand Island Public Schools Foundation
Presentation Title: Staff Campaigns: Developing a Culture of Giving
2:30    Break (light snack/drinks)
3:00   Speaker #3 and discussion
Lucas Dart - University of Nebraska Foundation (Kearney)
Presentation Title: Alumni Engagement!
4:00   Closing remarks/Adjourn
Sarah Dittmer
Parking Information:

The UNK Parking Map is marked with two red stars for the open entrances to the Nebraskan Student Union which is under construction. The Ponderosa Room is on the second floor. The north and the south entrances are both open. The registration table is at the top of the main staircase (on the south).
UNK has reserved 35 parking spaces in Lot 4 (north of the Nebraskan Student Union). Please move the reservation cone to the front of the parking space when parking.
Remember your Parking Pass:
Place your Guest Permit receipt (parking pass) on your vehicle dash. Emails were sent from UNK on Monday with parking pass links. If you have questions please contact Traci Skalberg at tskalberg@gips.org