NSFA Webinar: #GivingTuesday 9 Week Plan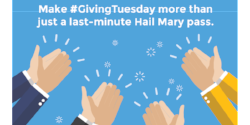 #GivingTuesday Before, During and After: Your 9-Week Success Plan!
With only weeks left before the biggest giving day of the year, we're all systems go for #GivingTuesday. If your current #GivingTuesday plan is to email a link to your "Donate Now" page and hope for the best, you still have time to implement a powerful strategy. Dana Ostomel, founder of Deposit a Gift and one of the nation's leading authorities on crowdfunding, will take you step-by-step through creating your 9-week communications plan and implementing your best giving day ever. A successful #GivingTuesday lasts well beyond a one-day event, as long as your plan includes a strategy that starts on #GratefulWednesday.